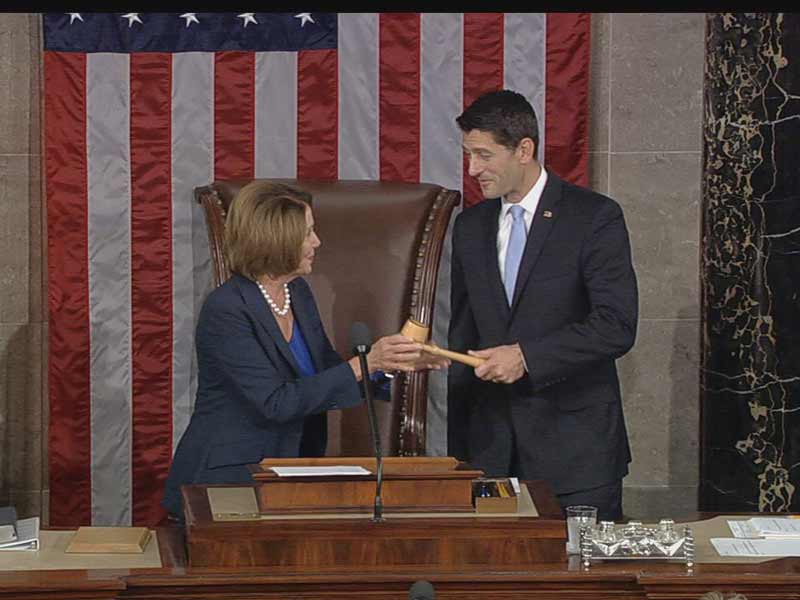 Paul D. Ryan elected by majority of Members
Paul D. Ryan, R-Wis., was elected 54th Speaker of the United States House of Representatives by a majority of Members on Thursday, October 29, 2015.
He replaces Speaker John Boehner, who stepped down from the position.
Speaker Ryan was nominated by House Republican Conference Chair, Representative Cathy McMorris Rodgers, R-Wash. "He did not seek this office; this office sought him," she said.
Speaker Ryan has served in the House since 1999. He previously served as Chairman of the House Ways and Means Committee and of the House Budget Committee. He was the Republican Party nominee for Vice President of the United States, running alongside Mitt Romney, in the 2012 presidential election.
At 45, he is the youngest speaker elected since 1869.
Outgoing Speaker Boehner presided over the election, where Speaker Ryan received 236 votes.
"The Honorable Paul D. Ryan, having duly received a majority of the votes cast, has been elected Speaker of the House," Mr. Boehner said.
Representative John Conyers, the Dean of the House, officially swore-in Ryan as Speaker.
"It's not until you hold this gavel, stand in this spot, look out and see all 435 members of this House," Speaker Ryan said. "It's not until then that you feel it, the weight of responsibility."
More information about Speakers of the House, including a list of all who have served, is available via the U.S. House Historian.