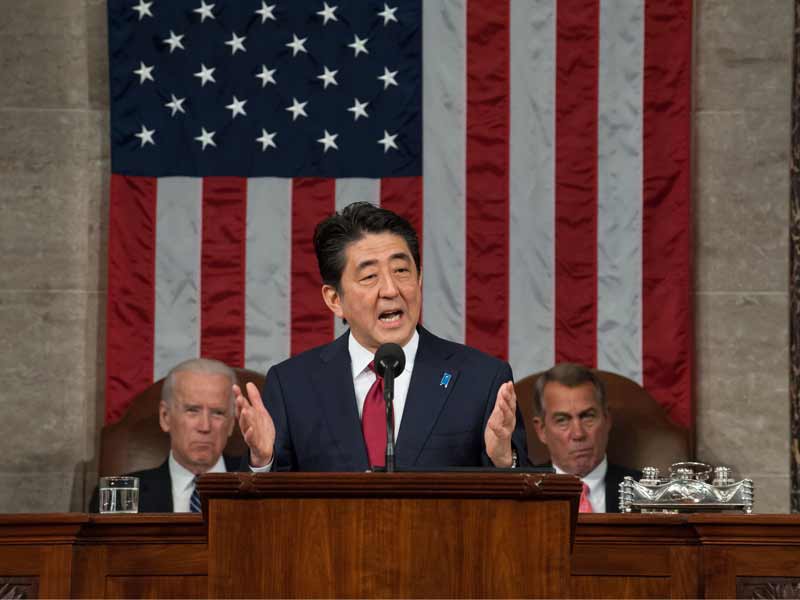 Shinzo Abe says U.S. gives the world hope
Japanese Prime Minister Shinzo Abe addressed a joint meeting of Congress on Wednesday, April 29.
House Speaker John Boehner welcomed him to the chamber.
Abe, the first Japanese leader to address a joint meeting, acknowledged the honor by remembering his grandfather, who also served as prime minister of Japan.
"I am honored to stand here as the first Japanese Prime Minister ever to address your joint session. I extend my heartfelt gratitude to you for inviting me. I have lots of things to tell you. But I am here with no ability, nor the intention, to filibuster," he said.
Abe also acknowledged the turbulent history between the two countries.
He invited two men with ties to World War II to sit in the House gallery during his remarks. Retired Marine Lt. Gen. Lawrence Snowden fought on Iwo Jima and was seated next to Yoshitaka Shido, a member of Japan's parliament whose grandfather, Gen. Tadamichi Kuribayashi, commanded the island's defenders.
"Enemies that fought each other so fiercely have become friends bonded in spirit," the prime minister said of his guests.
He concluded his speech by saying: "The finest asset the U.S. has to give to the world was hope, is hope, will be and must always be hope."
The first foreign leader to address a joint session was King Kalakaua of Hawaii in 1874, before Hawaii became a state. The House Historian has a complete list of foreign leaders who have addressed Congress.