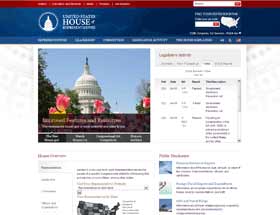 Improved Features and Resources
Welcome to the new House.gov. This completely redesigned site is now a more powerful and easy-to-navigate portal to the U.S. House of Representatives.
Here you will find a wealth of information about the House and Congress. Among the new and / or improved features are: easy-to-use tools for finding your representative, an expanded public disclosure section, and an interactive calendar of current and archived House schedules, floor proceedings, votes, bills, and reports. Those wanting to learn more about the House can explore current news of interest, unique program and resource highlights, and a straight-forward educational component with information about the House and the federal government.
In connecting House.gov users with the information they want from House members, officials, organizations, and others, we have tried to present those links in more logical and easy-to-find contexts. Overall, we aimed to expand and improve House.gov's resources, while creating a more compelling user experience.
We hope you like the new site and return regularly. We will continue to look for ways to improve House.gov as a powerful and informative tool.