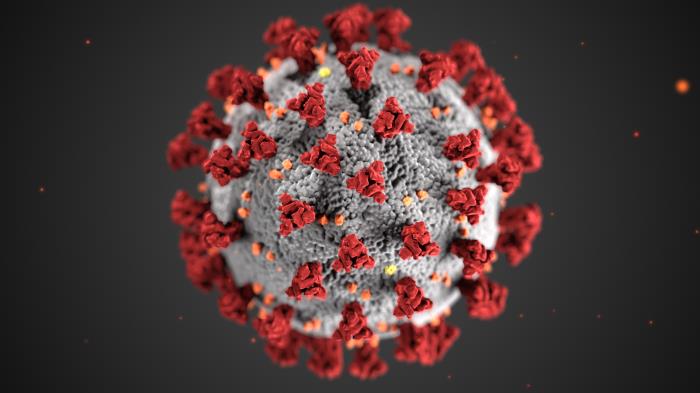 2019 Novel Coronavirus (COVID-19)
Update from the Attending Physisican: New CDC Recommendations On Face Coverings (4.5.2020)
The Office of Attending Physician supports the newly released CDC guidelines regarding use of a face cover when in public spaces. The face cover is now suggested to reduce the chance that an individual who feels well could contribute to the spread of infection by leaving behind virus particles. These virus particles may leave your mouth and nose while coughing, sneezing, speaking, singing or sitting quietly.
Maintaining social distancing practices now in place must continue. The wearing of a face covering is a supplement to these social distancing recommendations. You do not need to wear a face covering if you are in an office setting and can maintain the six foot recommended separation or if you're alone in your home or office. If you are in a public setting where a six foot separation is not practical, you should wear the face covering. You should not wear a respirator (N-95) mask, that should be reserved for health care settings. Home-fashioned cloth face coverings are preferred, but if there is a sufficient inventory of surgical masks available for purchase, that is a suitable facial covering. Each work center may establish additional policies regarding a uniform appearance, material and construction of the face covering where necessary. You can refer to the recent video describing use of acceptable masks.
CDC Recommendation Regarding the Use of Cloth Face Coverings: Full text is available here.
The CDC continues to study the spread and effects of the novel coronavirus across the United States. We now know from recent studies that a significant portion of individuals with coronavirus lack symptoms ("asymptomatic") and that even those who eventually develop symptoms ("pre-symptomatic") can transmit the virus to others before showing symptoms. This means that the virus can spread between people interacting in close proximity—for example, speaking, coughing, or sneezing—even if those people are not exhibiting symptoms. In light of this new evidence, CDC recommends wearing cloth face coverings in public settings where other social distancing measures are difficult to maintain (e.g., grocery stores and pharmacies) especially in areas of significant community-based transmission.
---
Update from the Office of the Attending Physician (3.18.2020)
The Office of Attending Physician has been carefully monitoring recent developments involving two Members of the United States House of Representatives who have tested positive for COVID-19 who are ill, but in good condition. They are following CDC specified self-isolation guidelines at their homes.
My office has taken appropriate actions to identify any individuals who require additional monitoring for periods of quarantine. The office has adopted a very conservative guideline to identify individuals who may have come into contact with the ill Members during the pre-symptomatic period of March 13th. The office has additionally reviewed possible exposures among staff members and has assessed other areas involving the calendars of the affected individuals. The Office of Attending Physician has identified the offices and locations that were found to be at risk and these have been treated by the Architect of the Capitol, using CDC approved cleaning methods to ensure there is no residual risk to others.
Other instances where the affected Members may have briefly come into contact with other colleagues on the House Floor would be considered to be low risk exposures and no additional measures are required other than for them to report any illness should they become ill.
It reflects the pace of the COVID-19 disease throughout the United States and its presence here in Washington, D.C. that it has touched the community of the U.S. Capitol.
---
2019 Novel Coronavirus (COVID-19)
According to the Centers for Disease Control and Prevention (CDC), it is responding to an "outbreak of respiratory disease caused by a novel (new) coronavirus that was first detected in China and which has now been detected in more than 100 locations internationally, including in the United States."
Information about the coronavirus is changing rapidly.  To stay apprised of the most up to date and authoritative information about the coronavirus in general, Members and staff should check the website of the Centers for Disease Control and Prevention (CDC), at https://www.cdc.gov.  The CDC's website includes information about the coronavirus in general, symptoms, prevention and treatment, and the CDC's response. 
Members and staff can also sign up to receive email updates directly from the CDC.  This information is also available to the public.  For the latest updates on coronavirus spread in the U.S., please refer to the CDC's information, which is publicly available here. The Committee on House Administration (CHA) also recommends that Members and their staff monitor the official social media platforms of your state and local government and health officials for the most current information specific to your districts.
For additional information of particular interest to the House community, the House Administration Committee encourages Members and staff to watch the videos recorded by the Attending Physician, Dr. Brian P. Monahan, that answer frequently asked questions and address practical prevention techniques.
Resources:
---
Watch: Medical Equipment for your Home - Pulse Oximeters
Watch: Medical Equipment for your Home - Thermometers
Watch: Attending Physician Coronavirus Update (4/15/2020)
Watch: Coronavirus Update (4/8/2020)
Watch: Coronavirus Update and Homemade Mask Demonstration (4/7/2020)
Watch: Coronavirus Update (4/1/20)
Watch: OAP Guidance - Mask Usage (4/1/20)
Watch: OAP Coronavirus Update (3/13/2020)
Watch: OAP Coronavirus Update (3/5/2020)
Watch: Coronavirus Update - Office of the Attending Physician (3/2/2020)
Watch: Overview of the Coronavirus, guidance from the Attending Physician
Watch: Answers to Frequently Asked Questions
Prevention
The Office of Attending Physician (OAP) in concert with the U.S. Centers for Disease Control and Prevention, Department of Health and Human Services, and state and local health departments continues to aggressively monitor and engage the current COVID-19 coronavirus threat. While general recommendations and updates may be found at the OAP website via Senate, House, Architect of the Capitol and Capitol Police intranet sites, the following mitigation actions are prudent to reinforce at this time. These suggestions reflect best judgement of an evolving circumstance that may require revision as more experience with the SARS-CoV-2 infection is gained.
Disinfection:
Offices should frequently wipe down hard surface high contact areas (telephones, keyboards, doorknobs, desks, railings, counters, computer mouse etc.) with a standard home disinfectant product and allow to air dry per manufacturer instructions, especially following any potential contact with individuals displaying respiratory complaints.
Hygiene Procedures:
Frequent handwashing with soap and water for at least 20 seconds at a time should occur immediately after touching high contact areas, such as doorknobs, railings, phones, etc.
If soap is unavailable, Members should plan to have hand sanitizer readily available on their person as a substitute.
Members, staff and visitors should wash hands/use hand sanitizer before and after visitations and meetings.
Social Distancing:
Members should adopt a stance that avoids close direct contact with other individuals, such as shaking hands, giving/receiving hugs, taking selfies, etc.
Visitors should be queried about current symptoms of respiratory illness upon arrival. If visitors are ill, the meeting should be re-scheduled for an alternate time.
Larger meeting events should be conducted via teleconference type means if possible. This is suggested for protecting the health of all participants.
For additional protection all meeting participants, Members attending large gatherings, should enter/exit via stage entrances to avoid mingling through large crowds of people.
Offices should prepare and activate telework procedures for Members or staff that develop signs of illness. Personnel should NOT report to work in this circumstance. They should remain home until 24 hours fever free without medication, or until cleared by their health care provider(additional restrictions for a COVID confirmed case to return to work are likely).
Guidelines regarding home quarantine actions may be found on the CDC's website.
What to do if you think you are infected: CDC Fact Sheet
Continue to follow the prevention recommendations above to protect others
Cover your mouth and nose with a tissue or your sleeve (not your hands) when coughing or sneezing.
Most importantly, if you find yourself in this situation, stay home (do not travel, go to work, or perform routine errands) and avoid contact with others except to seek medical care. Before any medical appointments, or ER visits, call ahead and inform your healthcare provider that you may be infected with 2019-nCoV. This will allow your healthcare team to make the proper precautions to ensure others do not get infected and provide you additional guidance.